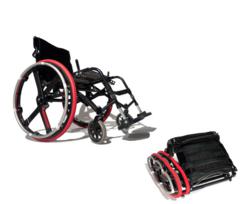 Love your wheelchair, but hate transporting it? Your world is about to get easier thanks to
Foldable Wheelchair Wheels
. This invention transforms the rigid wheelchair wheel and turns it into a foldable piece of magic.
How exactly the wheels are able to fold in, then retract (return to their original wheel shape), they don't say specifically, but from the pictures that have so far been released, it definitely looks like a multi-joint titanium tube design.
If you've never spent any time around manual wheelchairs, then you probably don't know what a bitch they can be to stow. Wheelchair wheels are bigger than they look, and they've been known to stubbornly not fit into a lot of cars (leaving the wheelchair-user in numerous sticky situations). But with a foldable wheel, you can now with total ease store a manual wheelchair in much tighter spaces.
When the wheels are folded, they take up almost 50% less space and can fit into longer, more narrow spaces. The hope is that airlines will also like these wheels, and allow them to be stored in the cabin, not in the belly of the plane per the usual, saving wheelchair-users tons of traveling time.
The foldable wheel design, originally intended for bicycles, was invented by Duncan Fitzsimmons, a graduate of the Royal College of Arts in London, England. He sold the distribution rights to Maddak, an independent living aid retailer in February 2011. They hope to begin selling them by September 2013.